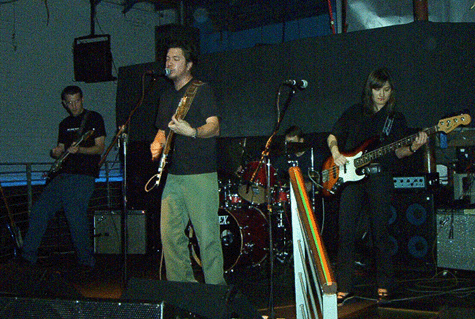 For booking inquiries email booking@milestoneartistmgmt.com
| | | |
| --- | --- | --- |
| WHEN | WHERE | ADMISSION |
| | NO SHOWS ARE SCHEDULED AT THIS TIME | |

WHEN
WHERE
ADMISSION
** CANCELLED **
Thurs. August 28th @
9:30pm
Club Lingerie w/ Four:19
6505 West Sunset Blvd., Hollywood, CA


Click Here to print show flier

$8 @ door

Thurs. July 31st @
9:30pm

14 Below, 1348 14th Street, Santa Monica, CA
(310) 451-5040 (w/ Rainshine from Boston, MASS)
Click Here to print show flier

$6 w/ flier

Thurs. June 5th @
9:30pm

14 Below, 1348 14th Street, Santa Monica, CA
(310) 451-5040
Click Here to print show flier

$6 w/ flier

Thurs. April 3rd @ 9:00pm sharp
CLUB DIY (w/ Full Band) @ The Derby,
4500 Los Feliz Blvd., Los Angeles, CA


Click Here to print show flier

$6 @ door

Tues. March 11th @ 10:30pm sharp

Circle Of Songs "LA Live" Showcase @ Club Lingerie, 6505 West Sunset Blvd., Hollywood, CA
Click Here to print show flier

$5 w/ flier
$7 @ door
Thurs. February 6th @
8:00pm
DIY MUSIC FESTIVAL (Acoustic Set) @ The Derby,
4500 Los Feliz Blvd., Los Angeles, CA
(323) 663-8979
FREE w/
GUEST LIST
Tues. December 17th @
7:00pm - 8:00pm
"Circle Of Songs" Showcase (Acoustic Set) @ Dorscia (formerly Moomba), 665 North Robertson Blvd.
West Hollywood, CA (310) 652-6364


Click Here to print show flier

FREE

Tues. November 19th @ 9:45pm sharp

Circle Of Songs "LA Live" Showcase @ Club Lingerie, 6505 West Sunset Blvd., Hollywood, CA
Click Here to print show flier

$5 w/ flier
$7 @ door

Thurs. October 10th @ 10:30pm

The Gig, 7302 Melrose Avenue, Hollywood, CA

$5 w/ flier
$7 @ door
Tues. September 17th @ 7:00pm - 8:00pm
USA Songwriting Competition "Circle Of Songs" Showcase (Acoustic Set) @ Moomba,
665 North Robertson Blvd., West Hollywood, CA
FREE

Sat. August 24th @ 9:00pm sharp

Midwest Music Conference Showcase at
High On Rose, 301 East High Street, Lexington, KY
(859) 388-9999

$5.00
Friday August 9th @
9:30pm

The Gig, 7302 Melrose Avenue, Hollywood, CA

$6 w/ flier

CD RELEASE PARTY!!
Sat. June 22nd @ 11pm

Blue Saloon, 4657 Lankershim Blvd.
N. Hollywood, CA

$5.00

Thurs. May 16th @ 10:00pm

Blue Saloon, 4657 Lankershim Blvd.
N. Hollywood, CA

$5.00

INTRODUCING THE BAND...

| | |
| --- | --- |
| AL LAY - LEAD VOCALS, GUITAR | MIKE FONTE - GUITARS |
| JIMMY DiJULIO - DRUMS | AIMEE LAY - BASS, BACKING VOCALS |

"All In The Musical Family"... For the past few years, Lost and Found frontwoman Aimee Lay has been moonlighting as the bass player for Al Lay, who happens to be her older brother. Now ex-Sonny Bones member Al (who's also appeared on a Down by Law album) will be the second guitarist for Lost and Found live. The Manhattan Beach natives share a gift for some of the smartest pop tunes on the L.A. scene. The elder Lay won acclaim for such songs as "Perfect World", from his debut album, "Life". Baby sis shows off wicked chops on the indie-pop gems "I Wanna Believe" and "Flashes". Lost and Found plays the Troubadour on Dec. 14; Al's next performance is Dec. 17 at Dorscia (formerly Moomba) in West Hollywood.
- "Los Angeles Times, Thursday, December 5, 2002" By: Steve Baltin and Kevin Bronson
Al Lay's music is aggressive yet accessible, animated by a strong performance aesthetic. Judging from his Starpolish samples, Lay conforms to familiar forms in his writing, while tweaking details to keep from sounding too predictable. "Reality," for instance, begins with a punchy major-key riff on the I chord, where most other artists would have written it in a bluesier minor mode, especially since the vocal comes in on what would be the relative major. In fact, this is a clever setup for the end of the verse, which goes back to the major I to create an upbeat, assertive transition into the chorus. Lay sings in a tuneful, muscular baritone; he nails his harmony overdubs with gusto, and slips deftly in and out of vibrato… The two cuts I heard make the case that Lay has got a lot of spirit and a knack for prickly hooks…
- "Starpolish.com Critic's Corner, April 2002" By: Robert Doerschuk


Here's a singer-songwriter who has put a lot of thought into every aspect of his songcrafting: he knows exactly how far he wants his notes to rise and fall, and why they should do so. It's a tack most effective on the uplifting "One By One," a tune driven by eagerly percussive piano. The song nicely takes advantage of Al's low, somewhat limited range; its refrain is so instantly hummable that I found myself singing along by the second listen -- always a good sign…
- "Starpolish.com Critic's Corner, April 2002" By: Joseph McCombs


Mixing a blend of pop tracks with deep, meaningful lyrics and an engaging voice, AL Lay has found a formula that is able to both captivate listeners and give them something to grow on in the process.... Something that the world sorely needs right now. AL Lay also plays all of his own instruments, writes all of his own songs and then puts on yet another hat jumping behind the boards and doing all the studio production/engineering! That's Incredible to say the least! AL Lay is not the next fad..... AL Lay may very well set the new standard in Contemporary Pop music. AL Lay has a proven track record (which in itself is quite impressive) a considerable fan base, and oh by the way....... His tracks have hit-potential as well. AL Lay is the Total package. Bottom Line..........
- "Undaground Productions, January 2002"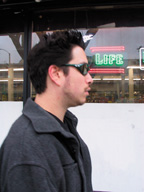 Currently in the studio finishing up work on his first solo release, entitled Life, Al Lay is a multi-talented artist who has been writing and playing music for over 15 years. Although bass is his main instrument, he plays most of the instruments on his songs, and five years as an audio engineer at one of Los Angeles' top recording studios has enabled him to craft a well-recorded pop-funk gem that reveals influences such as David Bowie and The Beatles. But Al isn't just a studio cat who can't cut it live – as a member of various bands, he's rocked the Hollywood circuit regularly, playing places like The Whisky, The Key Club, The Viper Room and The Opium Den. His last band, Sonny Bones, even landed him on a tour around the United States.
- "Lip Service Magazine, November 2001"